With today's update to Soapbox, we're excited to offer a new and improved Reservation Manager in the Events app!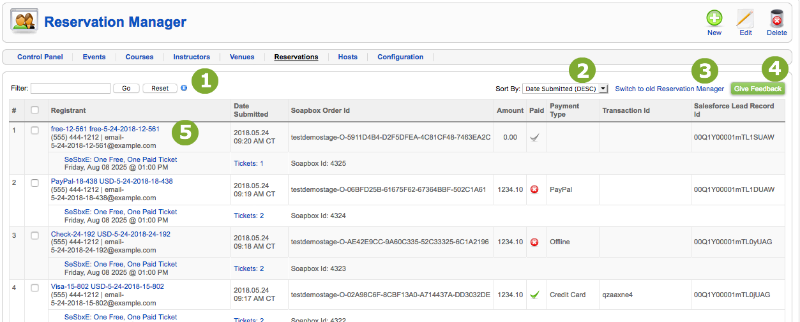 The new Reservation Manager has a number of additions and enhancements:
1. Improved search filter
We've expanded the data you can search using the filter. Now, all of the following fields will be searched for results that contain the string you enter into the text field: First Name, Last Name, Email, Soapbox Order Id, Transactions Id or Soapbox Lead Record Id.
2. More elegant sorting
To sort the records, all you need to do is select your desired order from the following options in the drop down: Date Submitted (ASC), Date Submitted (DESC), First Name (ASC), First Name, (DESC), Last Name (ASC), or Last Name (DESC).
3. Options for which Reservation Manager you wish to use
We know change can be difficult - even when it's for the better! During this initial rollout phase, you have the option of toggling between the new and improved Reservation Manager and the old one with a simple click.
4. We want to know what you think!
During this rollout phase, feel free to click the Give Feedback button to rate the new view and provide anonymous feedback on what works - and what doesn't. This feedback will guide further development of this view.
5. More reservation details, organized sensibly
The reservation table itself has been updated to include several additional details. First, the Soapbox Order Id, a unique id defined in Soapbox and saved to Salesforce, is displayed next to the details of the registrant along with the amount of their reservation. The paid column includes the existing green check mark for paid reservations and red X for those currently unpaid but now also includes a gray check mark for reservations that are free. The payment type is designated with one of the following options: blank for free reservations, Credit Card for payments made onsite through Soapbox, PayPal if the visitor is paying off-site directly with PayPal, or Offline if Check/Cash is selected. Any applicable Transaction Id is noted in the Transaction Id column. Finally, the Salesforce Lead Record Id, if a Salesforce Lead was created, is noted in the far right column.

Details regarding the event itself, the tickets reserved and the Soapbox Id representing the specific event reservation are included below. Placement of the event and ticket details here is in support of future functionality that will allow admins to enable a shopping cart feature in the Events app so visitors can reserve tickets for one or more events in a single reservation.
Feel free to enable the new Reservation Manager view and let us know what you think!
Happy Soapboxing!